The 44th Annual South Downs Way Walk: : 14th - 22nd June 2024
WHERE DO WE STAY
There is no accommodation provided along the South Downs Way during this event; with nearly 150 people taking part that simply would not be possible. Most local people will return home at the end of each day to family or friends. Those coming from further afield will find accommodation for the full nine days near one of the pick-up points - usually Chichester or Arundel. For some suggestions try the local T.I.C.'s
Luxury coaches are provided to pick up from selected points along the South Coast each morning - WORTHING, ARUNDEL, CHICHESTER & SHOREHAM - and take everyone to and from the next section of the trail each day. The coaches leave at different times each morning usually between 8am and 9:30am. In the afternoon the coaches will depart at roughly 45 minute intervals to return to all the pick-up points; so there is not too long to wait for a coach home.
DOGS
Best friends are welcome on the Annual Walk but we limit how many on each outbound coach. If you want to bring your best friend please book as soon as possible. Dog passes are always taken in the first few weeks.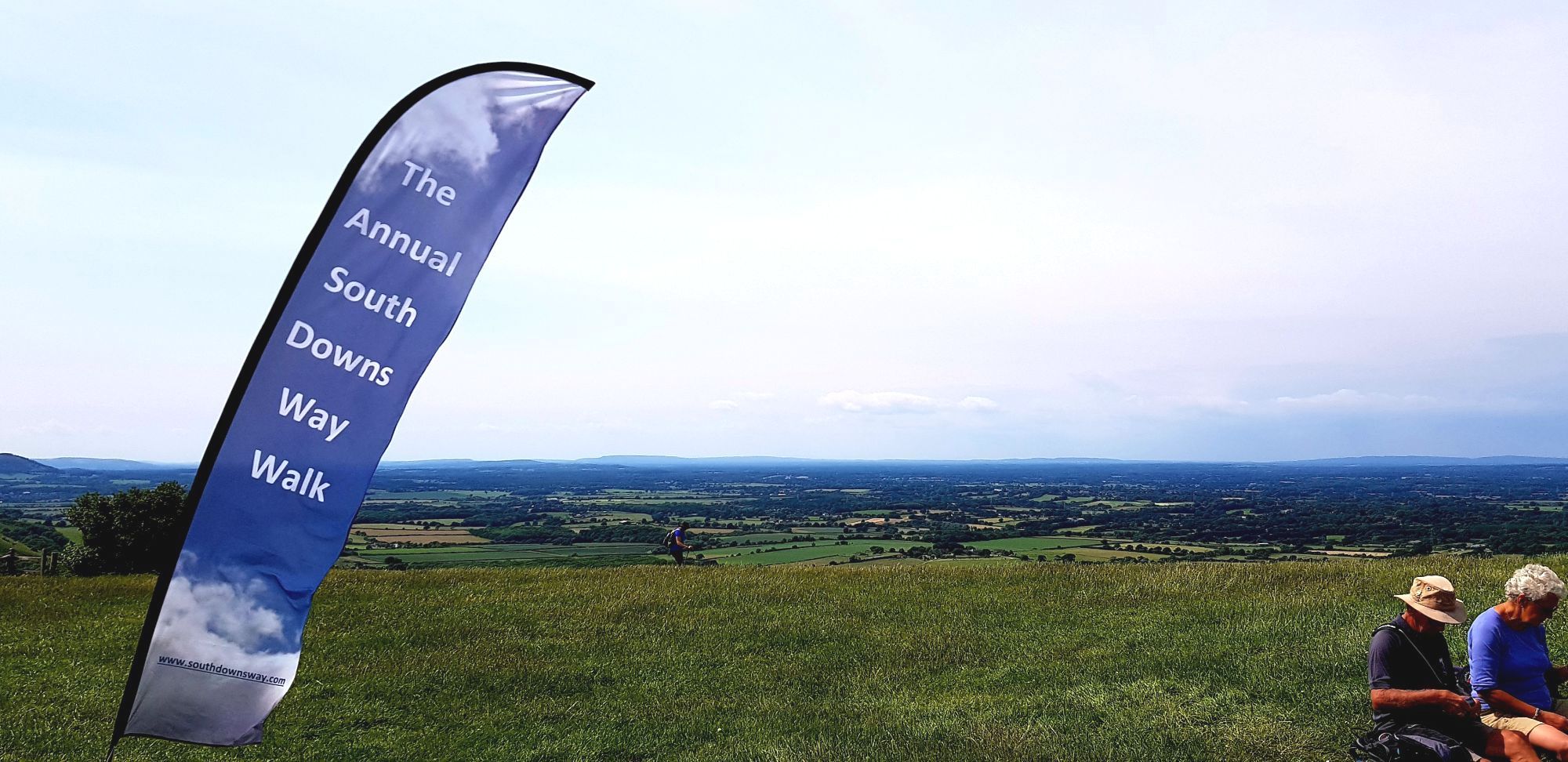 COST
The cost for the full nine days in 2023 was £365 per person. The price for next year will be set once all the costs are known. It will include coach transport to and from the trail each day, the celebratory buffet reception at the end of the walk, personal certificates, an experienced team walking the whole trail with you ... and one or two surprises along the way.
CANCELLATIONS
There is a non-refundable booking fee of £7.50. Beyond this, refunds will be offered on a sliding scale. The charge will be £35 for all cancellations received before 1st March 2024, increasing to 50% by 30th April and thereafter no refunds will be possible. The full terms and conditions will be published here before bookings open. We urge you to arrange basic insurance cover for unexpected cancellations - or check what your credit card offers. Remember this is an 'event' not a package holiday.

FITNESS
The South Downs Way is classified as an 'easy' National Trail. However you must be comfortable with maintaining an average walking speed of 2mph ( 3 kph ) and covering 11 or 12 miles (20km) on consecutive days. Good footwear is vital - these chalk and flint paths are unforgiving of ill-fitting boots and can cause difficulty with blisters.
BRIEFING
After booking, both newcomers and 'old hands' will be invited to attend a morning briefing meeting, with complimentary refreshments, a few weeks before the event. The team will be there to talk about how it all works and answer any questions you may have. Please do come along if you can.